If you are enthusiastic about grilling food and throwing BBQ parties, you surely know how stressful it can be to get delicious meat at the end. Not only is it a time-consuming process, but it is also quite hard to maintain a consistent temperature.
Even though the results are exceptional, barbecuing is overall a tedious job. This is where automatic barbecue temperature controllers come in. They regulate the internal temperature of your smoker grill while you are low and slow smoking your turkey. Hence, you can rest without worrying over your dinner.
To help you out, we have reviewed six of the best BBQ temperature controllers in the following article.
Our Top 6 BBQ Temperature Controller for 2023 Reviews
Since there are various smoker temperature controllers available in the market, it can be challenging to choose the best one for your needs. Keep reading our top six product reviews before making a final decision.
1. FireBoard FBX11 Thermometer + Blower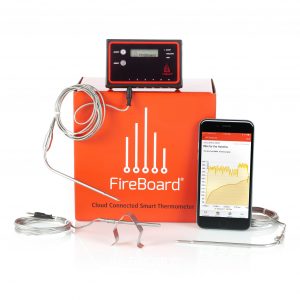 Fireboard was established in 2016 to invent the smartest thermometers in the BBQ industry. Their FBX11 thermometer and blower combination gives you one of the best automatic BBQ temperature controls over your food.
Even though you have to purchase the thermometer, blower, and a drive fan cable separately, the total cost is still lower than most automatic controller units in the market. Along with this, you can always use the thermometer independently for different purposes.
The FBX11 thermometer has a cloud connection that updates the temperature data every five seconds. This feature allows you to maintain the temperature remotely through your mobile phone or tablet.
Even if you don't have an internet connection, the thermometer can sync to your device via Bluetooth connection. Hence, you can keep yourself updated with the temperature changes at all times.
The smart thermometer even features smart alerts that notify you about your set temperature through SMS or email. Besides this, it is easy to set up and install. Moreover, it supports up to six thermometer probes, which give you accurate results in every season.
The Fireboard Snap-on Blower, on the other hand, is compatible with multiple smoker models. It has a maximum flow rating of 20 CFM and does not need an adapter to fit on the smoker. Moreover, it features an integrated shutter that blocks any draft after the blower has switched off.
Together, these components allow you to program complicated cooks, regulate temperature accurately, and save your cooking history on Cloud for the future.
Pros:
Sturdy construction
Wi-Fi and Bluetooth connection
Compatible with different fans or blowers
Durable meat probes
Can support up to six probes at a time
Displays all the information remotely on the phone
Cons:
The main unit does not display a lot of data
No preset settings
2. Flame Boss 500-WiFi Smoker Controller (Steel Smoker Kit & Ceramic/Kamado Kit)
Flame Boss is a reputed name in the BBQ community. Founded in 2013, the brand offers you the best means to become a BBQ guru. Their Flame Boss 500 WiFI Smoker Controller is one of the best heat regulators in the market.
The device is a combination of all the best features in a compact device, sold to customers at a reasonable price. The 7.8 x 4.7 x 11.4 inches device has the latest technology in terms of speed blower and patented software that regulates the air intake as well as the temperature. As a result, the device offers you a precise temperature control on your smoker.
Besides this, the device is compatible with Google Home and Amazon Alexa, allowing you to voice-control the device from any place.
Flame Boss 500 is designed to give you complete ease while cooking. Comparable to high-end controllers, this device has an easy configuration and connects to the Flame Boss mobile app via Wi-Fi. Hence, you can use your phone to set the temperature and keep an eye on your food all the time.
Moreover, this device comes with meat probes as well as pit probes for automatic control on the heat. The unit can monitor three probes simultaneously.
If all this was not enough, the unit comes armed with features like timer and text message alerts to update you on the grill's temperature. An online dashboard displays your cooking graphs, allows you to set alarms, and alerts you when your food is ready.
Flame Boss 500 steel smoker kits fit multiple models of drum, cabinet, barrel, and Offset-style charcoal smokers. If you own a ceramic or Kamado-style smoker, opt for the Flame Boss 500 Ceramic/ Kamado kit to regulate the temperature of your smoker.
Pros:
Easy configuration
Text alert and timers
Variable fan speed
Use three probes simultaneously
Sturdy construction
Supports manual, Wi-Fi, and voice control
Detects open lid
Cons:
Unreliable mobile app
Does not support all sort of smokers
3. ThermoWorks Signals + Billows
Signals™ 4-Channel BBQ Alarm Thermometer with Wi-Fi and Bluetooth® Wireless Technology (Currently unavailable.)
Based in Utah, the US, ThermoWorks has decades of experience in manufacturing the highest quality thermometers. Since all their products feature unique options and patented software, their Signals and Billow combination makes an exceptional automatic temperature controller.
When we talk about the thermometer, it has both Wi-Fi and Bluetooth connection, so you can switch between both seamlessly without losing any data. At one time, you can have four channels to monitor four different dishes.
Apart from this, you can use this device on both your smartphone as well as the unit itself. The latter comes with physical buttons and displays all the essential data on its massive screen.
Besides this, Signal includes real-time alerts to keep you updated with the temperature of your smoker. Its unit has a large, backlit display along with a weather-resistant, splash-proof sealed body.
The sturdy device even allows you to program each channel with a name and demarcates each probe with different colored silicone bands. Moreover, Signal included Pro-Series commercial-grade thermometer probes to measure temperature as accurately and precisely as possible.
When the outstanding thermometer is combined with ThermoWorks Billows, you can regulate the temperature of the smoker precisely. The Billows has a maximum airflow rating of 46CFM with only a 10°F temperature variation.
Apart from this, it goes seamlessly with most smokers without the need of an adapter. It stabilizes the temperature rapidly without an overshoot. As such, the fan maintains the heat of the smoker to the set value quite quickly.
Pros:
Sturdy splash-proof design
Use both manually and wirelessly
Four temperature channels
Both Wi-Fi and Bluetooth connection
Large backlit display
High-grade probes
High airflow capacity of the fan
Attach to most smokers
Cons:
Fewer features than others
Signal is only compatible with Billows
Blower does not have variable speed
4. CyberQ BBQ Temperature Controller
BBQ Guru is an American company based in Pennsylvania that manufactures high-quality grills and related accessories to make you a BBQ expert. The CyberQ BBQ Temperature Controller helps to regulate the heat inside the smoker consistently.
The device comes armed with CyberQ Cloud, a smart innovation that connects the grill to your phone via Wi-Fi. Thus, you don't have to be tied to your grill to always keep an eye on your dishes.
Since you get real-time updates on the temperature of the smoker, you can raise or lower the temperature with ease. Along with this, the CyberQ Cloud has mastered the art of low and slow cooking to get perfect juicy meat at every BBQ.
The device is compatible with smokers like Weber Smokey Mountain, Big Green Egg, and many ceramic charcoal grills. Its exceptional fan system sits over the air vents and maintains the temperature by feeding oxygen to the charcoal, thereby adjusting its oscillation to give you precise temperature control.
You can seamlessly use the device to monitor three temperatures simultaneously. Moreover, you can even track your cooking data in real-time, compare with other graphs on ShareMyCook, and add notes for future cooking.
Besides all this, the device is also compatible with Amazon Alexa, allowing you to use your voice for hands-free control. It is also geared with an exclusive ramp mode that prevents your food from overcooking by adjusting the temperature well before the meat is done.
Pros:
Voice, manual, and wireless control
Easy to install and use
Perfect for low and slow cooking
Sturdy, compact construction
Reasonable price
Monitor three temperatures at a time
Equipped with a robust probe
Track data in real-time
Cons:
Incompatible with many grill brands
Needs an adapter
5. DigiQ DX3 BBQ Temperature Controller
The DigiQ DX3 BBQ Temperature Controller is another outstanding temperature controller from BBQ Guru. As one of the most budget-friendly options in the market, this technology tracks the temperature of the smoker and lets you control it like an oven.
By adjusting the flow of oxygen to the burning charcoal, the device helps to manage temperature swings and minimize fluctuations. Along with this, the unit is quite easy to install and use. It comes decked with physical buttons and an LED temperature display.
Besides this, the temperature controller is compatible with almost all kinds of smokers, including Weber, Big Green Egg, DragonFire, Ceramic, and Kamado Joe grill. BBQ Guru offers a wide range of special adapters to support these grills.
DigiQ comes with robust food platinum probes that measure the internal temperature precisely and quickly.
Moving on, DigiQ DX3 has a revolutionary fan that adjusts the heat to give you the ideal low and slow cooking. The 10 CFM fan alters the airflow or regulates the heat to get tender juicy meat every time.
On the other hand, an exclusive ramp mode lowers the heat of the grill as soon as the food is 30 degrees from being perfectly done. This feature ensures that your meat doesn't get overcooked in the high heat.
Lastly, when the food is ready, the unit starts beeping and sends an alert on your device to notify you promptly.
Pros:
Sturdy construction
Alert sounds
Ramp mode and exceptional fan manage the temperature
Open lid sensor
Compatible with a wide range of smokers
Durable, robust platinum RTD probes
Easy to use
Reasonable price
Cons:
Fewer features than other
Supports two probes only
Does not have wireless control
6. IQ120 Temperature Controller
PitmasterIQ is an American brand that produces handy BBQ tools to make cooking stress-free for their customers. Their IQ120 Temperature Controller is perfect for use with Weber Kettle, Weber Smokey Mountain, and multiple other smokers.
Although it has fewer features than other controllers, IQ120 offers exceptional control over the temperature at an affordable price. As such, the basic device can regulate the temperature within just one-degree variation for precise control.
The best thing is, the device is entirely programmable. It changes the temperature of the smoker automatically depending on the set temperature and even allows you to set alarms to alert you about your cooking status.
Besides this, you get 12 settable parameters with a cheat sheet to help you understand them. The unit also features a digital display that shows the food temperature clearly. Instead of a keypad, the unit offers a rotating knob for parameter-setting and programming your cooks to your liking.
Moreover, the left-most side of the display shows a virtual blower that indicates the functioning blower. It even alerts you when the fuel is low or when the lid is open. The unit also comes with two six-inch robust temperature probes for better temperature accuracy.
Pros:
Clear LED display
User-friendly
Compatible with many smokers
Virtual blower
Easy to install
Precise temperature control
Cons:
Plastic hose sometimes melt
No Wi-Fi compatibility
Only support two probes
Low-quality design
Conclusion
Since even BBQ experts stress over how to regulate temperature in a smoker, it can be extremely difficult for beginners for sure. This is where automatic BBQ temperature controllers can make a huge difference.
Among our top six controllers, Flame Boss 500 Controller (Steel Smoker Kit & Ceramic/Kamado Kit), undoubtedly, offers the best features and precise control over the smoker. Not only does it come equipped with a variable blower, but it can also support three probes at a time and offers voice control.